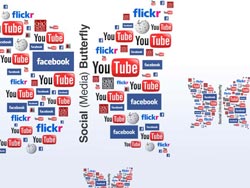 The following was a paper researched between May-July 2008, and written and published in August 2008 by Rachel Reuben as her independent study project as part of her MBA program at the State University of New York at New Paltz. 
This summer I did an independent study research project in pursuit of my MBA (expected graduation is Dec. '09). The focus of my research was the use of social media in higher education, specifically for marketing and communication.
This guide originally started with the premise of being co-authored with my sponsoring professor, and we planned to seek publication in an academic journal, and to present it at an upcoming conference. Unfortunately our schedules did not work out for the original concept, so I hope the guide as it turned out will still be useful to high level administrators in academia. We do plan to beef up the data analysis section and re-visit its focus into an academic publication later this year.
In July I produced a survey that was distributed via three listservs (uweb, HighEdWeb, SUNY CUADNet) and Twitter, asking what tools colleges are using, which offices maintain them, how often they spend maintaining them, and what target audience(s) they're primarily using them for. I ended up with 148 unique colleges/universities responding to the survey.

The Conversation Prism
The tools I focused on for the purpose of this survey included Facebook, MySpace, YouTube, Flickr, Twitter, blogs, and del.icio.us (now delicious.com). This research project culminated into writing a guidfe geared towards high level administrators in higher education, such as President's and VP's who have heard about social media, but need a complete introduction to the concept and potential. However, I do believe the data presented provides some solid statistics for mid-level Web, marketing and communication professionals to use to convince their supervisors that some forms of social media may be very beneficial to their overall marketing and communication mix.
Key Takeaways:
Facebook has great potential for our purposes, and just over half of those surveyed already have a Facebook Page for their University. MySpace is not only loosing ground with the general population in terms of the number of active users, but it's also not popularly used in higher education.
YouTube has enormous capabilities and potential. This is an area where you can really see a lot of ROI with no real post-production costs and an infinite audience (vs. creating CDs/DVDs, paying for postage to mail, distributing at fairs, etc.).
Higher education hasn't quite found the right niche for Twitter yet. It has great potential in the future, and there are a few ideas floating out there that may take off in the coming months – it will be interesting to see how this plays out.
In this guide I discuss concerns and implications for adopting (or not) social media, and illustrate some best practices in the higher education industry.