Are you a resource on your campus for all things social media?
Yes? Let's brainstorm about how we can best react to and assist people on campus who come to us to ask for guidance with some ideas they have.
No? Let's pretend. Play along with us here — the more collaborative minds we put together, the better.
The primary purpose of this post is to flesh out  the best response to this type of question:
"I want to create a Facebook Page for my [department/program/event/service] and thought I should probably coordinate that with you. Where should I start?"
I understand this may not be as likely to happen on larger campuses as it is in small to mid-size campuses. The point of posing this question is to talk through the best ways we can help educate and partner with people on campus who want to embrace social media.
I usually start with this first question:  Who is your audience?
Then I move to:  What are your department's/program's/event's/service's goals? Let's start with the end result and work backwards.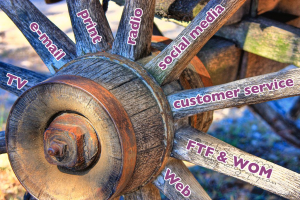 Next, I tell them social media may or may not be the best tool for them to use. This usually stumps them. Yes, I present at a bunch of conferences on social media. Yes, I did a research paper on the use of social media in higher education. Yes, I'm an active user of many social networking sites. However, as I say in just about every presentation I give — social media is not the be all end all. It is just one spoke in our marketing wheel. It may or may not be the right tool to use for a particular department/program/event/service — it all depends on your audience and your goal(s). It can be a very powerful medium that can reach very targeted audiences, but may not be the right tool for every audience and strategy.
"But I want my event to go viral."
Just because you want something to go viral doesn't mean it will. It takes a dose of effort and a pinch of luck, along with a powerful strategy and commitment, to really make this work.
Let's keep exploring. Next steps:
Educate them about the art of listening. Chris Brogan has a great post I regularly point people to — "Grow Bigger Ears in 10 Minutes." In addition, Kyle James wrote a post about monitoring your online identity that provides additional ideas and details. Listening first gives you a sense of what is being said about your department/program/event/service. It may also give you further ideas for content generation (see next step), and gives you an opportunity to join in existing conversations.
Content issues: Where will the content come from? Who will be responsible for maintaining your content and your presence? How will you engage your audience? Having a presence is not nearly enough – you must commit to fresh content that would be of interest to your audience.
Integration: How will you integrate this effort through the other mediums in your marketing wheel? Things to consider — mentioning in e-mail newsletters, e-mail signatures, print publications, ads, Web sites, blogs, admission tours, etc.
Measurement: How will you measure if your effort is successful? Were goals achieved? Is having a dollar value ROI important? (If so, see Karlyn's presentation on Eye On the Prize.) While there is great value in calculating ROI, I also like to focus on the "I" as "influence" — looking at the long tail effect. For example, in our Café New Paltz community for fall 2009 accepted students, I'm interested in tracking the different impacts on student service offices from their typical routine and schedule over the summer and early fall. Students in this community were figuring out as early as January who they wanted to room with, instead of waiting and scrambling during Orientation in July, taking a load off Residence Life and Student Development staff from what they're normally used to that time of the year. Students are asking questions earlier about paying bills, setting up meal plans, and how to accept financial aid packages. There likely won't be as big of a rush in these offices at the end of August, as we've been answering their questions months earlier. How else can you measure your success? I posted some other ideas in "Café New Paltz: A Yielding Success" that might give you some additional ideas. 
What steps did I miss? Do you have other strategies you employ when faced with a similar question? Do you make an concerted effort to coordinate all of the individual social media outposts on your campus, or just concern yourself with the big picture presence?