A couple of weeks ago I argued reasons why it might be more effective to piggyback on existing strategies that exist at your institution rather than create a stand alone social media strategy. In this post I alluded to considering your Facebook Fan Page like a Cafe, which was inspired by Chris Brogan's post entitled, "Cafe-Shaped Conversations." After putting the two together, and brainstorming with some colleagues, we came up with "Cafe New Paltz," an exclusive online community for fall 2009 accepted students. We're using Ning and will launch this on January 2.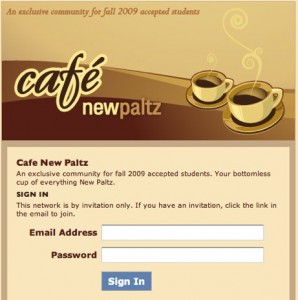 I teamed up with a colleague in our Office of Undergraduate Admission (Shana), who I've worked closely with on our Facebook Fan Page over the last year, among other eRecruiting-related initiatives, as well as my graduate assistant. My Senior Web Producer has an uncanny way of seeing inside my head and making my visions become a design reality (see graphic on right).
The idea Shana and I pitched her boss builds on their strategy to increase the academic quality of our incoming fall 2009 student body. There are more specific goals within that overall theme that I'm not going to disclose here, but this is a trend we've been working on for many years.
We're going to start by inviting the ~1,400 early action accepted students into this community when we send them an e-mail through Ning's invitation feature on January 2. Around March 1 we plan to invite the general accepted students pool to join in.
My graduate assistant and Shana's intern will be serving as the community's "baristas." They have been working together to develop ideas for the content they're going to produce inside this community. They will have weekly videos called "Flavor of the Week," and every video will end with an actionable request to engage the accepted students to produce content of their own within the community. Shana is even sewing them custom aprons to wear. 🙂
This is an exciting new adventure for us, although I know there are many universities have created communities for accepted students for the last few years. I plan on this being the first post in a series of posts about "Cafe New Paltz" that will document this project and the milestones along the way. I'm hoping it will be a resource for those who have not started something like this, and can be a place where we exchange ideas to build stronger communities for our students. Given the tight budget climate, this is the type of initiative that can score big for little financial investment.
This project is extremely timely given the recent Facebook scandal for the class of 2013 groups. I know these accepted students will still use Facebook, but I'm glad we're giving them a safe, gated community to interact with each other without any squatters trying to take advantage of them.
Tell us about your community! Or, are you trying to start one for the first time?