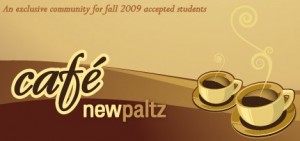 This update is part 2 in a series about Café New Paltz, an exclusive online community using Ning for our fall 2009 accepted students at the State University of New York at New Paltz.
Wow. That about sums up the reaction my colleagues and I have had since launching Café New Paltz on Friday, January 2.
Quick Bites (stats as of 8:30 a.m. Jan. 7):
invited 1,323 early action accepted students
169 members
143 photos posted by members
6 discussion forums started by members — including one with 33 replies
Videos
We posted two videos when we launched. I'm actually surprised at the low number of video plays, in relation to the number of members and their other activity. Everyone we have chatted with in the Café has been raving about them.
Welcome to Café New Paltz (2:06) – 66 views
Visit New Paltz (contest – 1:14) – 65 views
Jingle + Birthdays
My graduate assistant and his brother produced a catchy jingle for Café New Paltz that we use in the beginning and end of every video.
We noticed we have two birthdays in the community today. We've posted 4 happy birthday videos for them — one from the Office of Undergraduate Admission staff, one from two current students working in the Welcome Center, and one from each of our baristas. We also posted birthday wishes on their walls and pushed an activity update to the "latest activity feed" to wish them happy birthday.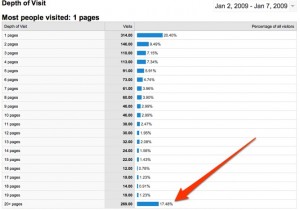 Google Analytics Snippets (Jan. 2-6)
 
1,539 visits
18,758 pageviews
20.40% bounce rate
13:54 average time on site
top 3 features: home page, members page, chat page, and one person's profile page (he's popular!)
Finances
paying Ning $24.95/month to remove the ads
paying Ning $4.95/month to point to custom domain
paid $10.19 for domain name for one year
Anecdotes
Over the weekend our baristas spent countless hours (on their own time, without being asked!) inside the Café striking up conversations and making new friends. They let the community decide what the next videos are they will produce (we're calling them "Flavors of the Week"), and the order they will be posted.
Some snippets I saved from one of many weekend chat sessions:
"I must be going. i'm definitely gonna log on again though, this is an amazing resource."

"Yeah this is a pretty great thing set up here"

"Yeah, I've never run across a school with something this helpful and people this nice before! It's great!"
They were also correcting each other's grammar and spelling during one chat session. 🙂
A parent called my colleague in the admissions office to sign her daughter up for an event that is advertised in the Café. She said her daughter was very impressed with the Café and wishes other schools did something like this. The mom was very impressed with how much we were doing for our accepted students, and also commented on how cute and entertaining her daughter thought the two guys doing the videos were (our "baristas"). 
Next Up?
This Friday we're going to send a re-invitation to the balance of original invitees that haven't responded. The four videos our baristas are working on include residence life, dining services, clubs/sports/intramurals, and around town.
Plug for upcoming Webinar
Want to hear more about how to recruit on a budget? Sign-up for my HigherEdExperts.com Webinar in the Saving Big series, which will be held February 4.
Am I missing something I should be tracking? What are you interested in learning? What does the activity in your communities look like?